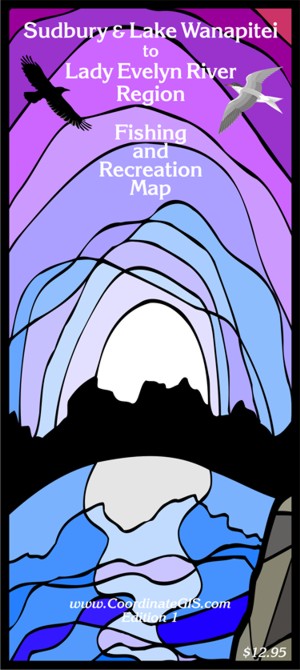 Upcoming Publication


Sudbury & Lake Wanapitei
to
Lady Evelyn River Region
Fishing & Recreation Map
To be published June/July 2012
This highly detailed full color topographic map publication will have a map on both sides of the 28" x 40" sheet.
The two sides are shown below, simplified and in low resolution.

The south sheet starts at Long Lake, just south of Sudbury, and goes north to the lower end of Chiniguchi Lake. Featuring Sudbury, Azilda, Garson, Hanmer, Falconbridge & Capreol, the map goes from Chelmsford in the west to the town of Warren and River Valley on the east side.

The north sheet continues north from the south sheet and shows Lady Evelyn, Makobe, and Smoothwater Lakes. Lady Evelyn-Smoothwater Provincial Park is portrayed and the eastern extent show Obabika Lake and the west branched of Lake Temagami. The east side show Burwash and Wlcome Lakes.

The two sides are shown below, simplified and in low resolution.

The map is based on Ontario Ministry of Natural Resources (MNR) 1:20,000 scale data and is equivalent in area to between
8 to 10 green federal (1:50k) topographic maps.


The data has been updated and many additional features have been added. Aside from 14 fish species there
will be approximately 80 legend items.
Some of the features included are land ownership, contours, provincial parks and conservation areas, lots and concessions, trails,
snowmobile and canoe routes,
boat launches, waterfalls and rapids, campgrounds and lodges, as well as many other features.
North Side of Map - Lady Evelyn River Region - simplified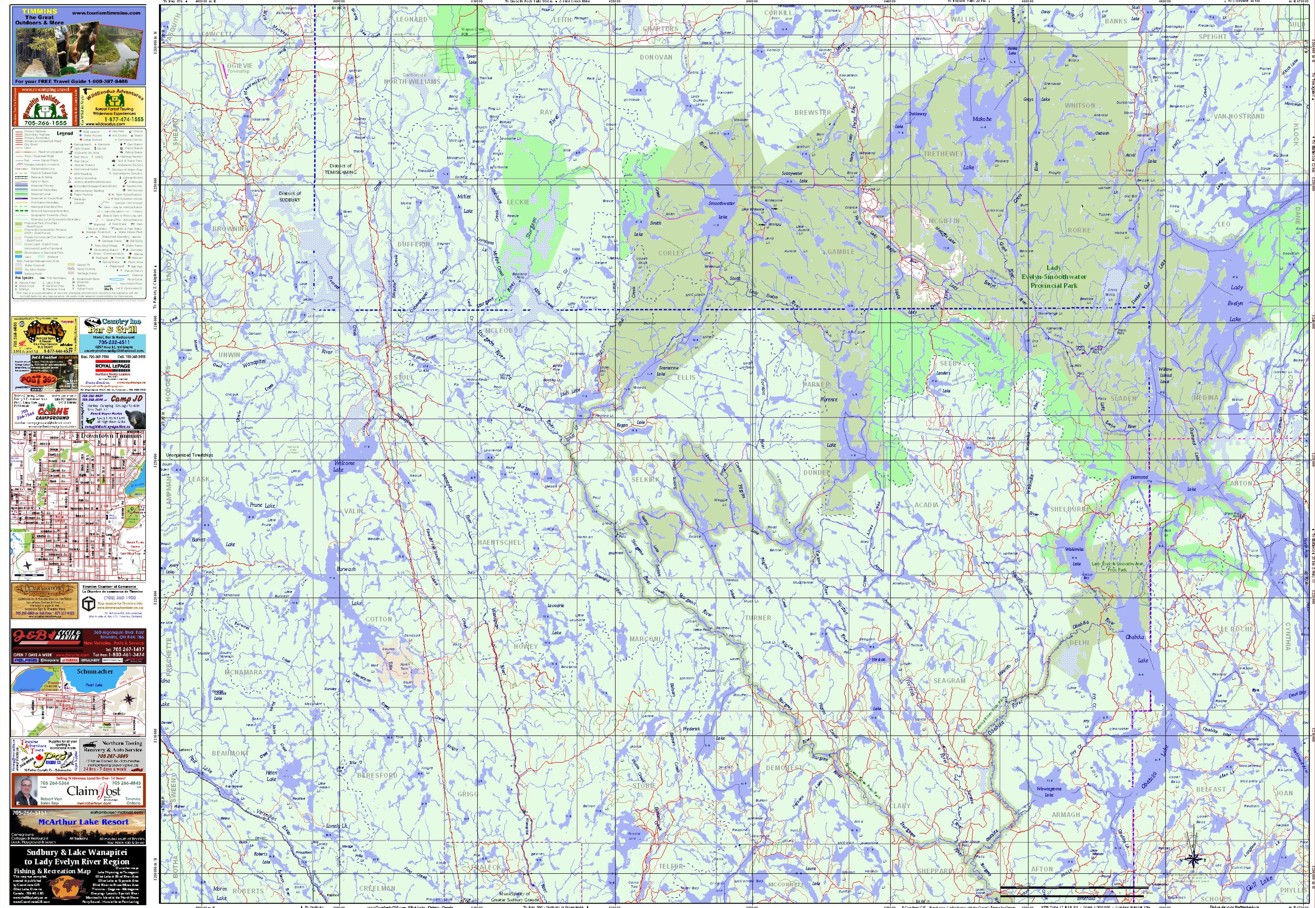 South Side of Map - Sudbury, Wanapitei, Chelmsford, Capreol, River Valley, etc. - simplified
Detail of Sudbury & Lake Wanapitei Map with contour lines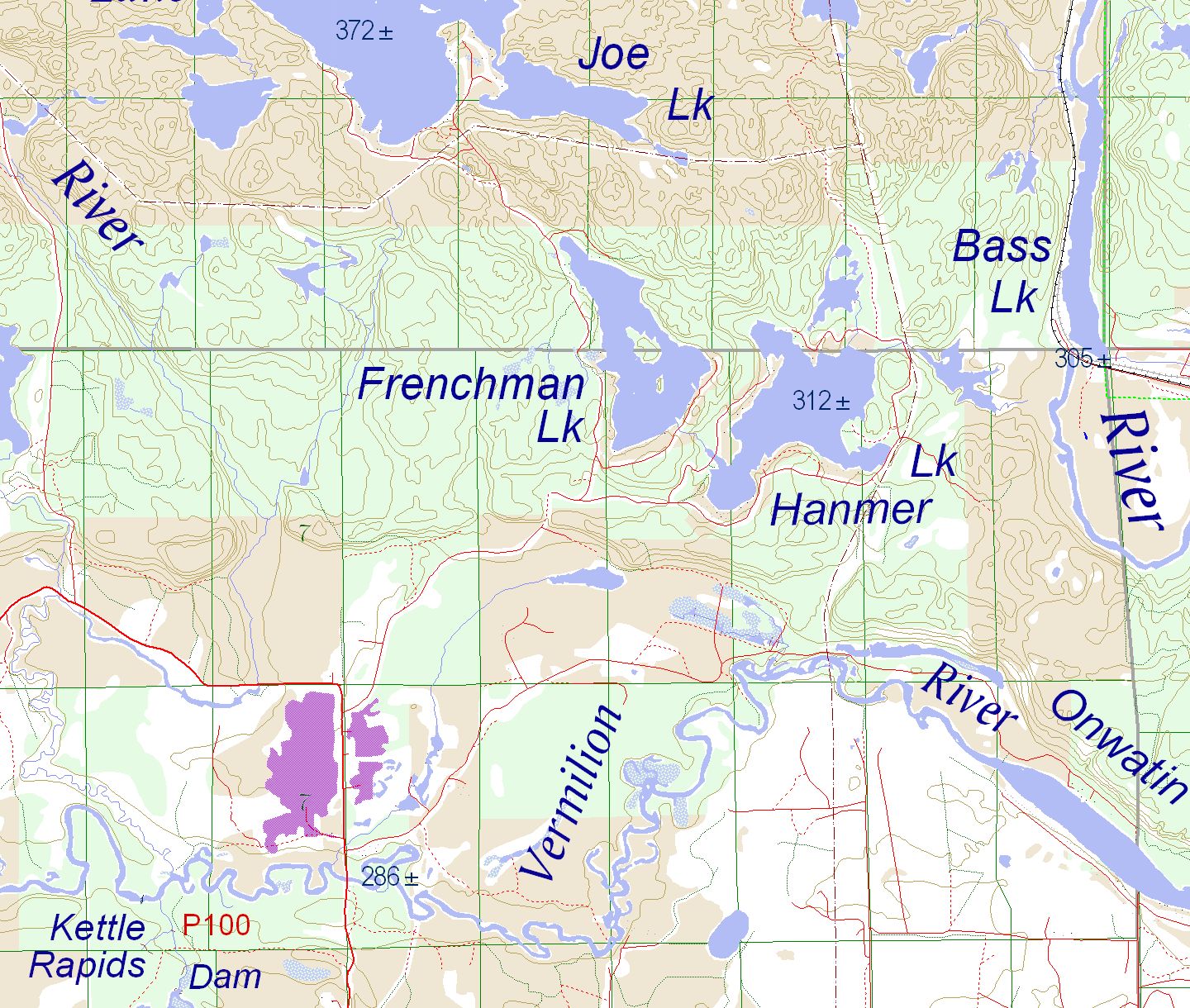 The list below is a general guideline to advertising prices.

Lodge or Outfit Name only on face of map $110.00
next to appropriate lodge symbol

Lodge or Outfit Name on face of map $200.00
next to appropriate lodge symbol
& ½ width ad in sidebar

Ad in sidebar - full width $350.00
& lodge name on map face

Larger Ad Sizes Negotiable
Listed prices do not include HST
*************************************************************************
If you are interested in advertising on this map
please call us at 705 461-1521,
or write to Coordinate GIS, 15 Birch Road, Elliot Lake, ON P5A-2C9
or email beverley@vianet.ca

Contact: info@CoordinateGIS.com
Find us here via - www.theMapLady.ca